Our collections include many local history and genealogy resources. Visitors are welcome to browse and search for information in our archives and reading room when we are open to the public, and researchers can request access by appointment when the museum is not open to the public. Information about our photos and artifacts is also available on NovaMuse.
Photographs, digital images – Bedford people, landmarks, and events dating from the late 1870's.
Artifacts – a variety of items on display (or in storage) relating to life in Bedford spanning more than two centuries. For example, costumes, crockery, utensils, furnishings, tools, archeological finds, and other treasures.
Monographs and Historical Booklets – written by Bedford historians and published by Fort Sackville Press, covering wide range of local history topics, such as Bedford organizations, schools, churches, cemeteries, land development, leisure activities, people, and landmarks (railways, post office, parks, rifle range, ships, etc.). Several of our publications also can be found at the Bedford branch of the public library.
High school yearbooks
Information and studies – particularly about Scott Manor House
Family Files – names from the 1926 and 1930 local phone books, and other Bedford residents/families from later years
Scrapbooks containing newspaper clippings about Bedford residents and events dating from 1906
Obituaries of Bedford residents from 1906
Bedford cemetery plot plans for Brookside Community Cemetery
Fonds – papers/documents collected by prominent Bedford residents and organizations
Topic Folders – a wide range of local history topics
Paintings/artwork of Bedford landmarks, scenes, some by Bedford artists
Maps – street maps, property maps, topographic maps, hydrographic maps, maps of roads and railways, and others. Dating from the 1750's.
Audiotapes of presentations on historical topics
Books about Bedford, Nova Scotian and Canadian history – visit our Reading Room.
Videos
The Halifax Explosion — 1917 As seen by a 15 year old student living in Bedford, Evelyn Fox Richardson
This video was produced by June Boswell, a researcher with the Fort Sackville Foundation, with funding provided by Halifax Explosion 100th Anniversary Grants Program.
On December 6, 1917, award-winning author Evelyn Fox Richardson was a 15 year old student who travelled by train from Bedford to Halifax to attend high school. The video reflects Evelyn's personal account of the explosion, its aftermath and her journey back home that day. In addition to the video, Evelyn Richardson's complete description of the day's events and recollections of other Bedford residents are monographs published by the Fort Sackville Press and can be accessed at Scott Manor or the Bedford branch of the public library.
A History of Bedford – Bedford's Canada 150 Video
The video was a Canada 150 project, produced by Warburton Communications, and written by Steve Warburton. This fun and informative video follows a man and his grandson as they explore some of Bedford's landmarks and changes made over the past 150 years. The images of days-gone-by used in the video were selected from the Fort Sackville Foundation's large library of archival pictures, and several of our volunteers provided consultation to this exciting community based project.
Displays
Portable displays, when not on exhibit at Scott Manor House, may be loaned to schools, groups or organizations for classroom use, special events, exhibits or community gatherings. If appropriate for your event, our volunteers may also be requested to help staff the display. Contact us by email for more information on borrowing displays.
Bedford then & now
This four-panel retractable banner display shows the changes along the old Main Road that is today's Bedford Highway, from Mill Cove Plaza to Bedford Place Mall over the last century. Bedford then & now highlights past/present industrial, commercial and community landmarks, featuring old photos from our collection and recent images of these sites, many taken by Lew Turner. Designed to be self-explanatory, the display is freestanding and flexible — a highlight panel can be used by itself, or all four panels can be displayed. A detailed Guidebook is available.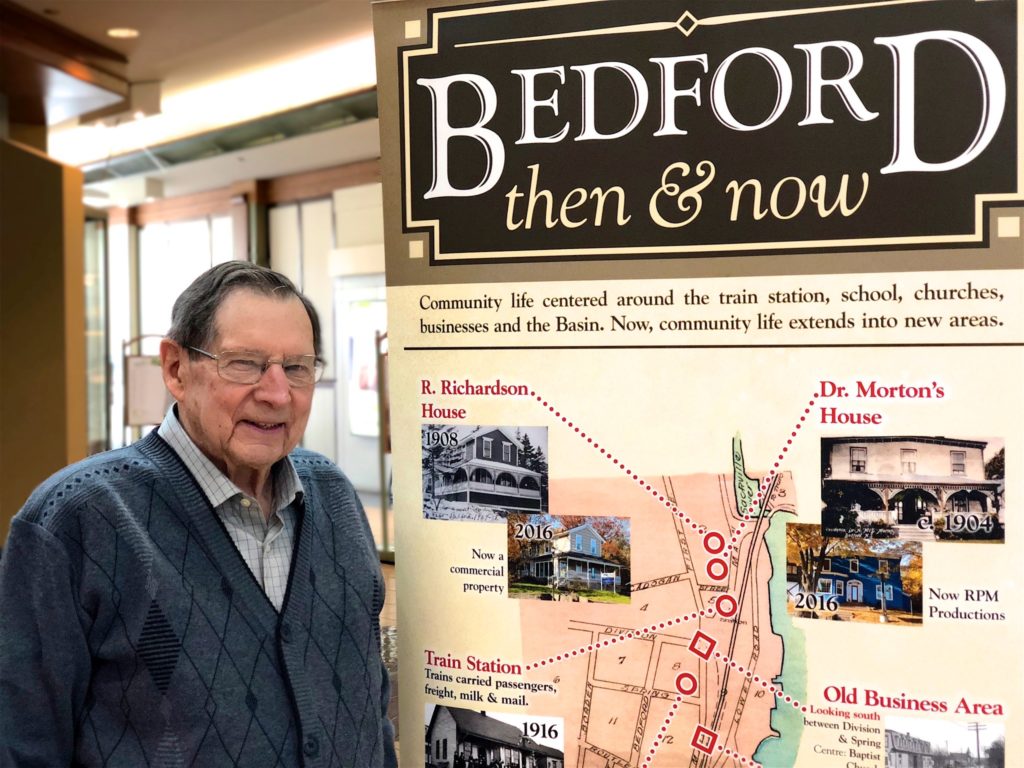 Bedford Time Line 1867-2017
Produced for Canada's 150th birthday, this display has two elements:
four poster boards describing life in Bedford in 1867, 1917, 1967 and 2017, and
three banners summarizing the changes and events in Bedford and Canada that shaped the community from 1867-1917, 1917-1967, and 1967-2017.